Catamaran Cruise
Come join the fun on the BH3 Catamaran Cruise!
26 November 2017 @ 9:30 AM
Hashers $65, Guests (Non-Hashers) $110
Please register with Cheryl Rose as soon as possible.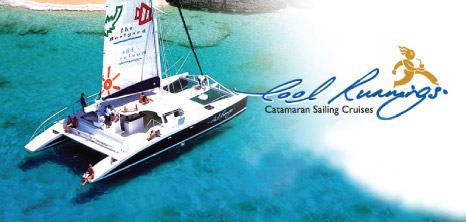 Payment guarantees reservation.
Warning! Behaviour on this cruise may not be suitable for children!
---
Not seeing updates? Refresh the page!
Trying to find the Hash?
Look for these Signs from the posted location


Barbados H3
Hash #1887
Date:
Saturday 28 October


3:30 PM
Hare :
TBD

Location :
TBD
Signs posted from TBD
Upcoming Events
Dominican Republic's 30th Anniversary!
4-6 November 2017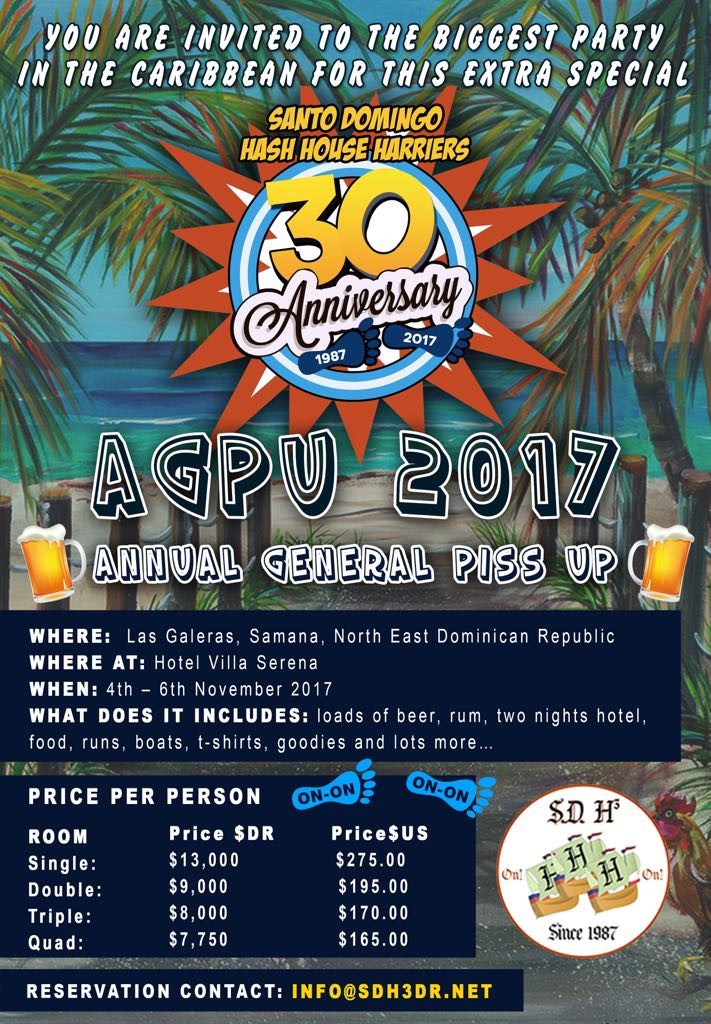 The Event of the Century is not far away now! Only four months left till this monumental occasion. The event will be held in the north eastern tip of the Dominican Republic in a beautiful peninsular known as Samana, in a place called Las Galeras. We have located a super cool hotel called Villa Serena, which is all for us!
There will be amazing trials with a spectacular boat ride for all you pirates out there. So get your sh*t together and make your reservations now. Remember end of month July, rates go up 10%!!
Download the registration form and send it in today!
---
Run Barbados 2017
1-3 December 2017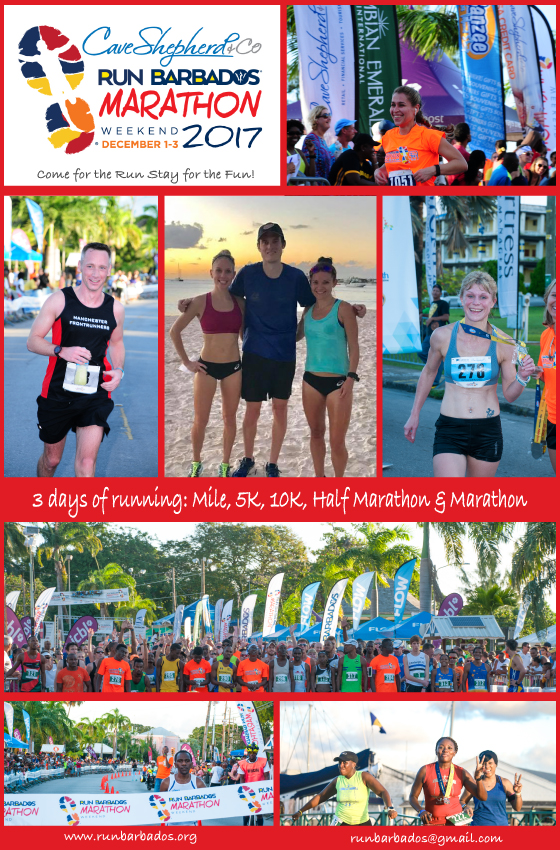 Five months until the Cave Shepherd & Co. Run Barbados Marathon Weekend!
The 35th edition of the AIMS-IAAF certified Run Barbados Series will once again offer three days of Run Fun:
• Friday Dec 1st – the Signia Mile & Pasta Party
• Saturday Dec 2nd – the Cave Shepherd Visa Credit Card 5K and the Colombian Emeralds Int'l 10K
•  Sunday Dec 3rd – Early morning starts for the Fortress Half Marathon and Cave Shepherd Marathon
The Ganzee 5K Walk for Charity starts a bit later on Sunday morning.

Register Online today!
---
Away Events!
Barbados H3 Cruise
Official Hash Cruise 2018
21 – 29 April 2018
Click here to view all the details
Fly to Fort Lauderdale and set sail aboard the Royal Caribbean's Freedom of the Seas!
The package cost includes:
• Complimentary Welcome Cocktail Party aboard the ship
• Three (3) hash runs in Grand Cayman, Costa Maya and Cozumel!
• One post-night's accommodation at Hampton Inn Plantation
• Shopping in Fort Lauderdale with complimentary hotel transfers to Sawgrass Mills Shopping Mall
• Jetblue flight back to Barbados on 29 April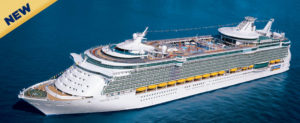 View the flyer to see full details including the complete itinerary!
You can print and fill in the Registration Form and submit to June "Hershey Buns"!
There are just a few cabins left .... Sign Up Today!
Mismanagement
From Hashmaster Floyd "Bull-a-horn"
Hello to all you great hashers out there. This is your HM (Bull-a-horn) saying "Thanks" for allowing me to be your leader again.With the challenges we do face,hopefully we as BH3 hashers will be able to get them behind us in a positive way and allow ourselves to have a fantastic year of hashing. Even now, as I go on a very personal trip, I encourage each and every one of us to continue to invite our families and friends to the hash, and see what a wonderful experience it is. Until ... On On.
HM
Do you have pictures from any recent runs? If so, upload to your favourite cloud storage and Contact Us to share the link!